Easy Dairy Live Mobile Herd Management
Portable and paperless herd management
We are very excited that the Easy Dairy Live mobile app is finally nearing completion.
Goals
Short Term

Easy Dairy Herd Management in your pocket.
Offline mode

Australia is a big place and mobile coverage can be poor or non-existent in many rural areas. Therefore, all processing must be done on the devices.

Apple & Android compatible

Long term

Integration with automation systems.
Live shed information available during milking.
Auto drafting
Where are we at now?
January 2023
Easy Dairy Live for Desktop
Our Cloud-Enabled Easy Dairy Live for Desktop system has been in testing with selected customers for close to 3 years now. So far, we have been able to migrate most of the main features from Easy Dairy to Easy Dairy Live. The most recent Easy Dairy update involved extensive behind the scenes changes, and as such, we are carefully integrating it into Easy Dairy Live.
Easy Dairy Live for Mobile
After a server issue that caused problems for Easy Dairy Live for Desktop users, Easy Dairy Live for Mobile is operational again. The changes made to the server were easy to implement into the desktop app but needed more care and attention on mobile. We have an internal version of the mobile app that is almost finished testing and will be rolled out as soon as possible.
Easy ID Live
We have been working hard towards getting Easy ID working on our cloud-enabled system. Recently, we set up a new Easy Draft system with Easy ID Live and have had success in a single PC, single Draft Gate system setup. Our next goal is to test ID systems with Easy ID Live as well as having more than one PC at the dairy. This testing is underway.
Features & Benefits
Your favorite herd management software in your pocket.
Enter health and reproductive events when they happen.
Check management and attention groups anywhere.
Cow reproduction and production information in your pocket.
Check calving and dry off calendars to see who is due now.
Stock take semen tanks and drug stocks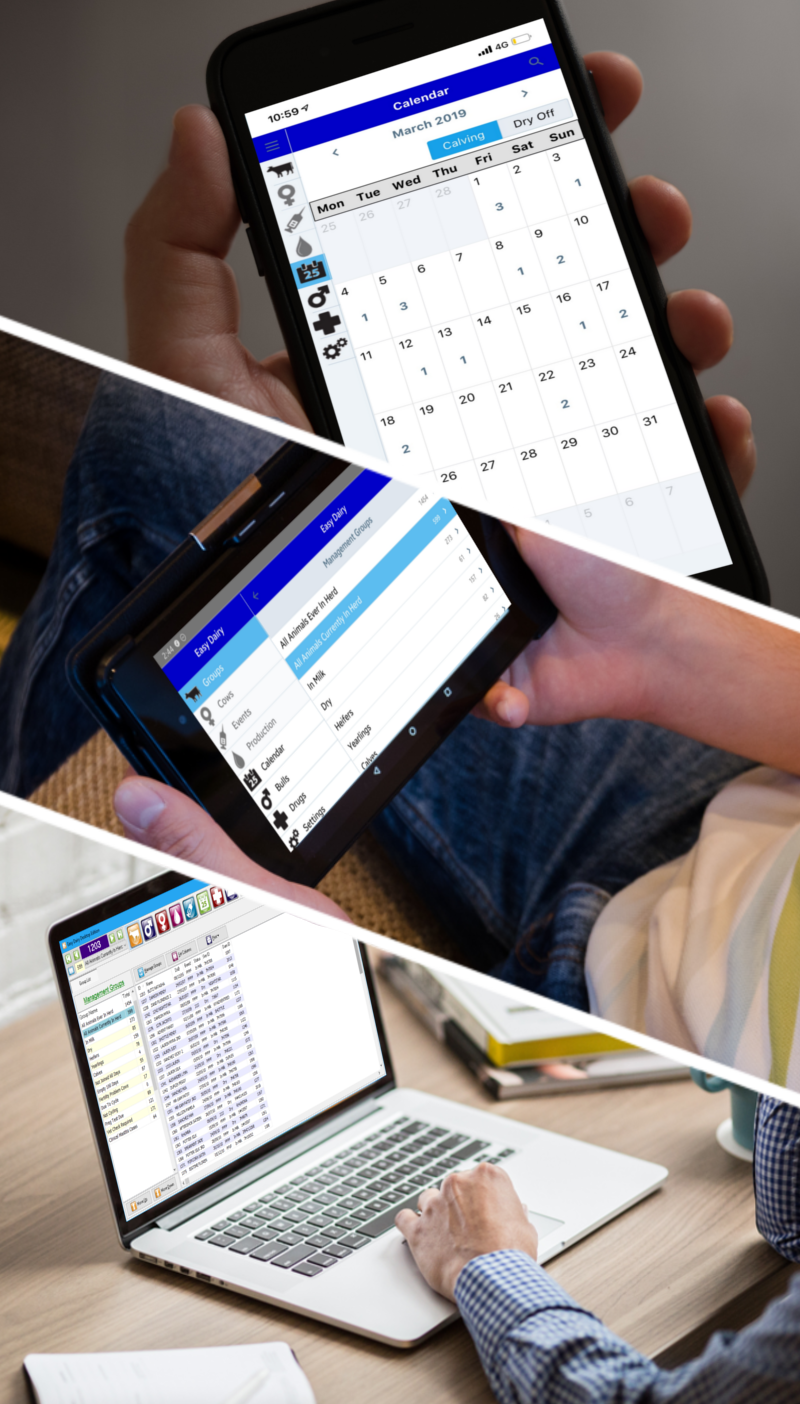 Current roadmap and milestones
Easy Dairy Live for Desktop
Continue development on syncing & error handling
Get Easy Dairy Live for Desktop at feature parity with Easy Dairy
Easy Dairy Live for Mobile
Continue development on syncing
Work towards enabling the Full Version mode

App is currently in Read Only mode
Easy ID Live
Easy ID Live is working with our Easy Draft Cow Sorting system
Work towards integrating with our Rotary ID and Herringbone ID system
Test existing integrations with third party systems